Schedule an appointment, below, with one of our talented doctors & providers who will care for you through all of life's seasons.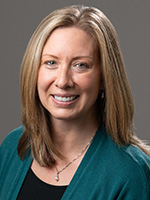 Christy South, M.D.
OB-GYN
Mat-Su Women's Health Specialists
2490 S. Woodworth Loop, Suite 301
Palmer, AK 99645
Request An Appointment
Originally an eastern Tennessee native, Dr. Christy South is now serving the Matanuska Valley at Mat-Su Women's Health Specialists. She attended medical school at Quillen College of Medicine before moving to Milwaukee, Wisconsin for residency in 2004. Dr. South is a board-certified OB/GYN and a certified health coach. Her professional interests include minimally invasive surgery, particularly robotics and treatments for urinary incontinence. Dr. South has been married to her husband Barry since 1996 and they have three children: Caleb, Thomas and Ellie, and an additional four dogs and a bearded dragon. Her family owns a whitetail deer farm in Kentucky where they maintain a trophy breeding and hunting operation. In her free time, Dr. South loves crafting, knitting, sewing, scrapbooking, hiking, fishing, hunting, running, gardening, canning and reading.